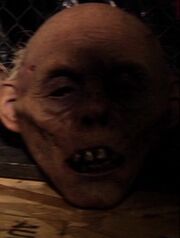 The Old Man is a monster kept in the Facility. He is not listed on the whiteboard. He is in the film, but he is never seen. He is briefly seen as a mask for one of the finished monster suits in the behind the scenes video An Army of Nightmares.
Physical Description & Attributes
Edit
He appears to be a normal looking old man. There is white hair on the sides of his head while the top of his head is bald. He has a few scars on his head. His skin looks shriveled and rotten. The skin on his face is shriveled and allows the internal structure of his face to be seen. His eyes have sunken into his skull. He has a few rotten teeth in his wrinkly mouth. He is seen as a mask for one of the finished monster suits that were ready for filming in the behind the scenes "An Army of Nightmare: Make-Up and Animatronic Effects".
Inspiration
Edit
It was likely inspired by the "Creepy old man" in horror films where whether they're the real villain or not, have a very eerie and ominous appearance such as the old men from Phantasm, See No Evil, Thinner and Monster House, although in the latter the old man in question is not the real villian and becomes a protagonist at the end of the film.
Ad blocker interference detected!
Wikia is a free-to-use site that makes money from advertising. We have a modified experience for viewers using ad blockers

Wikia is not accessible if you've made further modifications. Remove the custom ad blocker rule(s) and the page will load as expected.