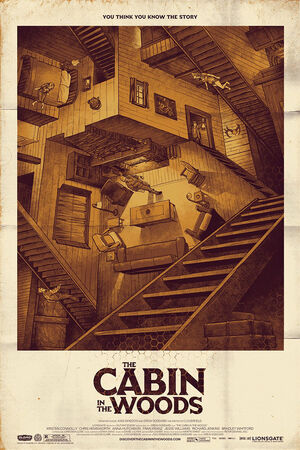 "You think you know the story."
The Cabin in the Woods is a 2012 horror movie directed by Drew Goddard and written by Goddard and Joss Whedon.
"Five friends go for a break at a remote cabin in the woods, where they get more than they bargained for. Together, they must discover the truth behind the cabin in the woods."
It is more than just a horror movie, however: it takes apart the average horror movie and shows what's going on underneath.
Warning: This wiki contains massive amounts of spoilers. If you have not seen the movie, we recommend you see if before reading any further.
See: Plot, Characters, Monsters.


Did you like Cabin in the Woods?
Loading RSS data...
The Tank is one of the cameos from the videogame Left 4 Dead that appears during the movie, along with the Boomer and the Witch. Read more.
Create blog post
Hey guys, I'm new to this wiki. My name is TheAgent41 and I am an aspiring video game designer from Indiana. The other night, I had a dream regarding an idea similar to this movie and I feel like it could be an interesting survival-horror game.

The g…

Read more >

https://www.youtube.com/user/ColinFlaherty712/videos

Read more >
See more >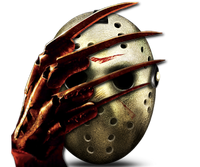 Ad blocker interference detected!
Wikia is a free-to-use site that makes money from advertising. We have a modified experience for viewers using ad blockers

Wikia is not accessible if you've made further modifications. Remove the custom ad blocker rule(s) and the page will load as expected.