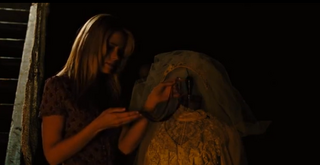 The Bride
is one of the monsters seen on the whiteboard. She was bet on by Digital Analysis.
Physical Description & Attributes
Edit
She is not shown during the purge, but her dress is shown in the cellar of the cabin. She is almost summoned by Jules Louden by wearing the necklace displayed on the wedding dress when the group was inside the cellar.
Inspiration
Edit
It could be a play on "The Bride" of the monster or villain of horror films such as Bride of Frankenstein, Bride of Chucky, Bride of The Creature (from the Black Lagoon) or maybe even The Corpse Bride.
May also be a satirical jibe at the character of Miss Havisham from Charles Dicken's book Great Expectations (1861).