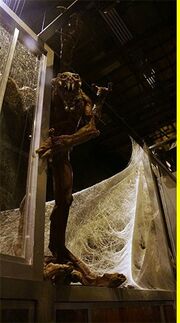 The Beast is a monster exclusive to The Cabin in the Woods Universal Attraction.
Physical Description & Attributes
Edit
It is a reddish creature with almost an underworld look to it. It has two pairs of arms. One pair is on its back. It has large bird-like feet that end in curved talons.
It is seen in The Cabin in the Woods Universal Attraction standing over you in its elevator cube.
Inspiration
Edit
He maybe inspired by legends of beasts from the underworld.
Ad blocker interference detected!
Wikia is a free-to-use site that makes money from advertising. We have a modified experience for viewers using ad blockers

Wikia is not accessible if you've made further modifications. Remove the custom ad blocker rule(s) and the page will load as expected.