Mummy
is one of the monsters on the whiteboard. It is bet on by the Psychology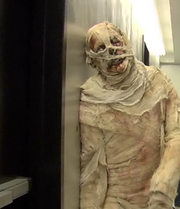 Department.
Physical Description
Edit
The Mummy is shown as a re-animated semi-rotting, mummified corpse.
It is possible that an Egyptian dagger summons him.
Appearances
Edit
The mummy is seen during the System Purge (primarily in behind the scenes footage), in the corner of the camera trying to grab a worker as he runs past the Dismemberment Goblins on their stolen golf cart. He is seen holding a long curved knife or dagger.
Inspiration
Edit
Mummies are commonly featured as stock monsters in many horror stories. One of the earliest examples of this is The Mummy!: Or a Tale of the Twenty-Second Century, an 1827 novel written by Jane C. Loudon. This early, science-fiction work concerns an Egyptian mummy named Cheops, who is brought back in to life in the 22nd century. Films that rely on this theme are many, including the 1932 movie The Mummy starring Boris Karloff as Imhotep. and Full Moon Entertainment's Petrified. The belief in cursed mummies probably stems in part from the supposed curse on the tomb of Tutankhamun.
Ad blocker interference detected!
Wikia is a free-to-use site that makes money from advertising. We have a modified experience for viewers using ad blockers

Wikia is not accessible if you've made further modifications. Remove the custom ad blocker rule(s) and the page will load as expected.