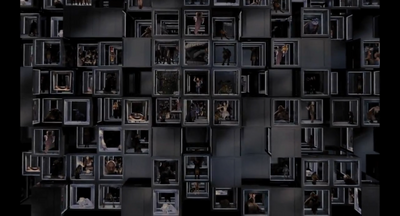 "An endless array of elevators. Monsters in every single one. It's the CostCo of death." -Script's description of the cube prison.
Monsters are a network of various creatures, which include man-made abominations, legendary beings, and supernatural entities. The four major types of such creatures are Supernatural (ie. Vampires, Werewolf, and Wraiths),Psychopaths (ie. Balding Menace, The Suffocators, and Savage with Hatchet), Folkloric Creatures (ie. Cyclops, Sasquatch, and Unicorns), and Common Phobias(ie. Clowns, Rabid Dogs, and The Huron). Minor types include undead humans (ie. Zombies, Mummy, and Undead War Monger), demons (ie. Dismemberment Goblins, Deadites, and Bullhead Phantom), extraterrestrial creatures (ie. Alien Beast, The Reptilian, and The Blob) and giant animals (ie. Giant Tarantula, Giant Snake, and Giant Millipede). Many monsters can have more than one categorizations like Kevin (psychopath/common phobia), The Doctors (common phobias/undead humans) and Reavers (undead humans/psychopaths). While most monsters correspond to certain tropes, some are more specific, if not original, like Jack O'Lantern, Sugarplum Fairy, and Dragonbat.
Many of the supernatural creatures provided to the Facility are for the purpose of murdering the five sacrifices in the Ritual. For each monster, there is a corresponding item that can be used to summon it.
Appearance and Characteristics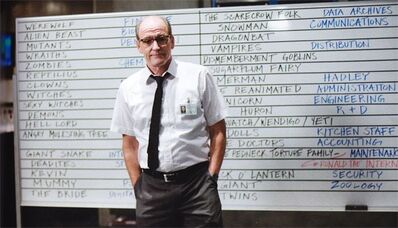 As to fill multiple horror conventions, each of the monster's appearances differ between them. It is clear that every monster is kept in thousands of identicle cube prisons roughly the size of the elevator, so the monsters (each) would be small enough to fit inside them, despite some of them appearing too big on the outside (like the Kraken, Giant, and the Angry Molesting Tree).
Their behaviour differs between them, some of them acting like savage animals (ie. Man in Transparent Tarp) while the others remain calm and collected (ie. Ku Klux Klan), as shown when some of them tried find a way out of their cubes while others calmly waited to be let out. 
While their modes of behaviour may differ between them, they all have a single, solitary goal in mind: kill every human being they see. They lack an actual will of their own, completely ignoring their situation, the surroundings and each other (unless they are monsters that operate in groups like The Dolls, The Scarecrow Folks, and Mutants) simply to perform their dark task. Despite their inherent violent and evil nature, they are never seen in conflict with each other, as seen when the Dragon Bat ignores a helpless human in front of it, beacuse another monster was already advancing on him. Their methods of killing range from suffocation, stabbing, burning, tearing, beating to death, slow torture and biting. While the book describes what they do as simply feeding themselves, they may not need to survive in mortal ways, those who eat simply eating for the sake of it (like the Giant Snake and the Zombies). Whether or not they can die varies, the Clown shown to be completely immune to bullets while Marty was able to kill a mutant with a single headshot.
Many fans theorize that the monsters are actually the pets of the Anicent Ones, and are wanting to be set free to re-unite with their owners. They also believe that some of the monsters had helped out in getting Dana and Marty into the faciltiy
List of Monsters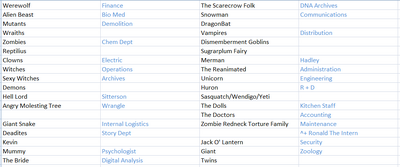 Monster Listed On The White Board
Other Monsters Seen in the Film and Behind the Scenes
Monsters only mentioned in the Novelization
Boil Covered Monster -
Four Eyed Creature with a mouth like a sea creature's -
Infant Creatures -
Minotaur -
Monochrome Woman -
Screaming Banshee -
Six-Armed Man -
Snake Pubic Hair Woman -
Three-Headed Child -
Toxic Ghostly Figure -
Woman with a Toothed Vagina -
Monsters appearing in the Visual Companion
Monsters appearing at the Universal Attraction