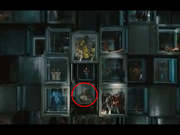 Giant Toad
 is a
monster
in the
Facility
. It is not listed on the whiteboard. It can briefly be seen in his cube during the elevator scene. It's not shown during the
Purge
.
Apearancee and Characteristics

Edit
As the name would suggest, the Giant Toad appears as a normal looking toad, but of abnormal size, enough to eat a man whole.
It is unknown what could summon it, but it might be either a stuffed frog or a Lily Pad notebook
Inspiration

Edit
The classic "Killer Animal(s)" in horror films such as Them, Anaconda, Jaws, Strays, ect.. They may also be a direct reference to the 1972 horror film, Frogs.
Ad blocker interference detected!
Wikia is a free-to-use site that makes money from advertising. We have a modified experience for viewers using ad blockers

Wikia is not accessible if you've made further modifications. Remove the custom ad blocker rule(s) and the page will load as expected.