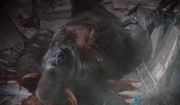 The Giant Ape is the monster used by the Buenos Aires quarter of the Organization to complete the Ritual. It's based on King Kong.
According to the Control Room monitors that Gary Sitterson and Steve Hadley are flicking through after witnessing Japan's ritual failure, the Argentinian sector had failed too, displaying the image of the dead and defeated monster that was supposedly sent to complete the ritual on behalf of the organization.
Even though the creature resembles a giant ape, it possesses a pair of curved horns.
It is most likely a reference to King Kong.
Ad blocker interference detected!
Wikia is a free-to-use site that makes money from advertising. We have a modified experience for viewers using ad blockers

Wikia is not accessible if you've made further modifications. Remove the custom ad blocker rule(s) and the page will load as expected.