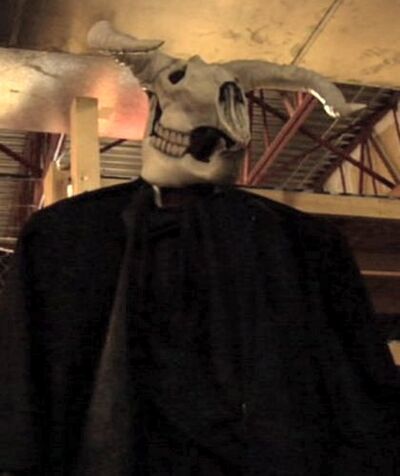 The Cow Skull Giant
is one of the
monsters
kept in the
Facility
. It is not seen on the whiteboard. It is in the film, but it is never seen. It is only seen as one of the finished monster suits ready for in the behind the scenes video
An Army of Nightmares
.
Physical Description & Attributes
Edit
It closely resembles the Bullhead Phantom in many ways, but the Monster Legacy site has several photos from the film featuring the Werewolf, Demons, The Reptilian, Reptilius and Bullhead Phantom includes a photo named "Cow Skull Giant," which is the monster seen in the behind-the-scenes video and the photo revealed here. As it name implies, the Cow Skull Giant is a gigantic creature that has a cow skull for a head. It is seen wearing a very long robe. The sleeves of the robe cover its arms. Its arms are almost the length of its body and are slim. Its hands are bony with three sharp fingers on them.
Inspiration
Edit
It is similar to the phantoms in Time Bandits along with Wendigos from folklore which they themselves are featured in many horror films.
Ad blocker interference detected!
Wikia is a free-to-use site that makes money from advertising. We have a modified experience for viewers using ad blockers

Wikia is not accessible if you've made further modifications. Remove the custom ad blocker rule(s) and the page will load as expected.