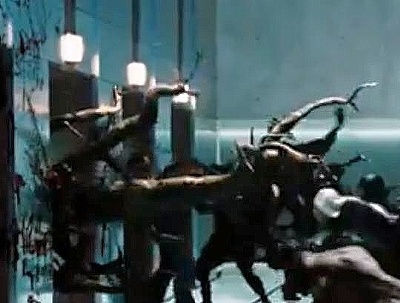 The Angry Molesting Tree is one of the monsters on the whiteboard. The Wranglers bet on it.
Physical Description
Edit
It is depicted as a leafless, moving tree. By its name, it could be inferred that it sexually assaults its victims as well.
It is possible that a jar of tree sap summons it.
Appearances
Edit
It is released during the Purge and can be seen grabbing a guard and dragging him into the elevator. The elevator then spews out blood from the entrance, showing that the Tree aggressively killed the guard in an unseen manner. It is then seen later on a monitor using its roots to drag an unconscious worker offscreen.
Inspiration
Edit
This monster is likely a reference to The Evil Dead, where a woman is attacked and raped by possessed trees.
Other films with notably aggressive trees include:   

Ad blocker interference detected!
Wikia is a free-to-use site that makes money from advertising. We have a modified experience for viewers using ad blockers

Wikia is not accessible if you've made further modifications. Remove the custom ad blocker rule(s) and the page will load as expected.